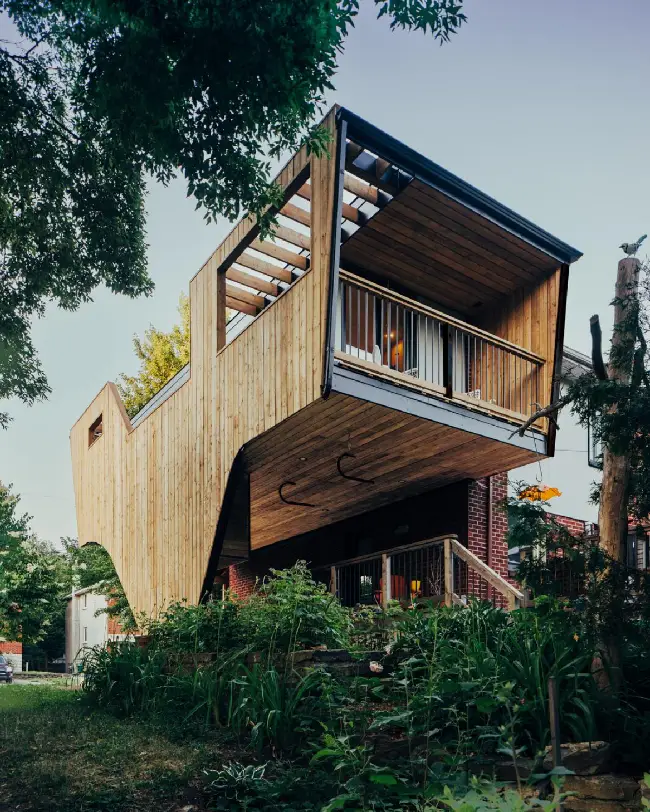 Crafting Eco-Harmony: A Feathery Oasis by 25:8 Architecture
---
The homeowners, driven by their deep passion for bird watching, aimed to fully utilize their property's unique location adjacent to a diverse and ecologically rich landscape. Their ingenious design approach involved optimizing the available space by constructing a new family area above an existing carport. This addition includes a rooftop deck, providing an ideal vantage point for immersing in nature's beauty.
One of the most captivating aspects of this design is the incorporation of a "wing" element that conceals the new 'V' column. The wooden structure's graceful curves impart a sense of continuous motion, creating the illusion that the entire construction is elegantly suspended above the ground.
The façade showcases thoughtfully placed openings that frame the surrounding landscape like pieces of art. Towards the front, a generously sized window captures a picturesque view of distant trees. This window is intelligently shielded by a sliding battened screen, ensuring its protection during family basketball games in the driveway.
The addition was meticulously planned to cater to three essential aspects: Professional, Physical, and Play. It encompasses a home office for professional work, a dedicated yoga area for physical well-being, and a designated play space where the family can gather for board games and puzzles. The final result is a simple yet remarkable addition that appears to gracefully soar above the landscape, echoing the elegant flight of a bird.
Project by 25:8 Architecture + Urban Design
Photos: Brendan Burden