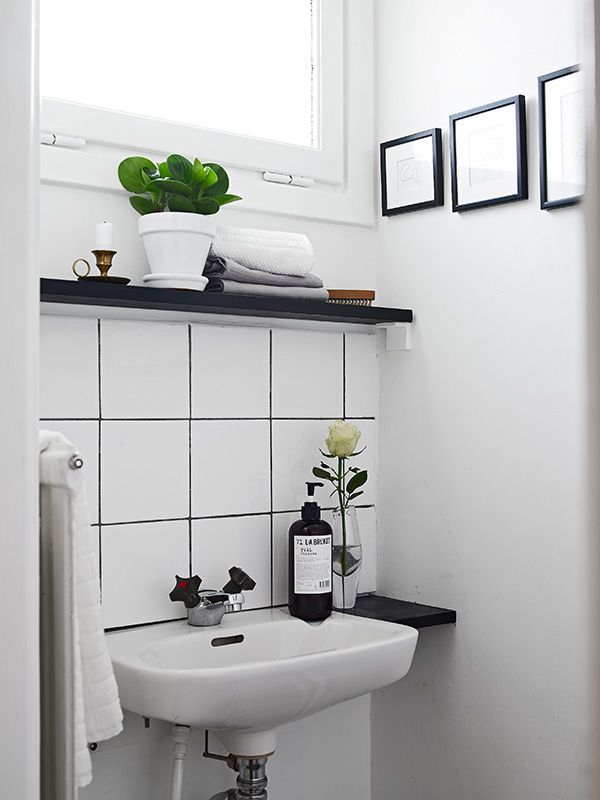 16 Small Bathroom Remodel Ideas That Will Help You to Save Space
---
You don't need a spacious bathroom to create a beautiful interior. You don't need an enormous budget as well. Here we have 16 small bathroom remodel ideas to make your tiny space the most beautiful.
Sure, the square footage is indeed scarce, but look at it this way—a small bathroom is full of possibilities. You only have to sharpen your ingenuity and use interior designers' ideas that we've collected in this article. A sliding door or large mirrors are some of the tricks to make your bathroom look larger than it is, or so that you can at least make the most of every corner of this space.
These bathroom remodel ideas are easy to apply, and the effect will be almost magical. If a space does not stand out for its dimensions, you have to improve its aesthetics. And all this, without neglecting functionality—a mandatory quality in bathrooms and toilets. For example, if your bathroom is small, you should not consider whether to put a bathtub or a shower. Always opt for the second option. And if possible, choose a transparent glass partition that will create a greater sense of space.
Small Bathroom Remodel Ideas: The Furniture
Floating Furniture
A unique and practical way to decorate the bathroom is to use floating furniture. Such pieces create a feeling of spaciousness, as they leave free gaps between them and floors.
Using Free Space Above the Toilet
For some reason, many people don't want to use this space for storage, but if your bathroom is small, this one is a no-brainer. If you can invest more, order a custom-built cabinet. But if the budget is tight, you can install built-in shelves to the wall, and put jars, towels, brushes, etc.
Using the Corners
If you are remodeling your bathroom, consider opting for a corner vanity. You could also install simple corner shelves. Another option is to put a corner wardrobe that will fit perfectly and create more storage space.
Dual Purpose Furniture

A genius way to save space in a small bathroom is to have furniture or dual-use objects, such as a radiator that also serves as a towel hanger. There are different sizes and designs, so it is adaptable to any sink type.
Niche Wall
A niche wall will save you space, and you won't have to buy shelves. Besides, it looks really cool and is especially convenient when showering.
A Wall-Mounted Tap
If you're using a narrow sink, consider installing a wall-mounted tap. Take careful measurements before planning your bathroom's layout. If you can install it, a wall-mounted faucet will save you extra space and will look pretty good.
Custom Furniture
Ok, we know this sounds like investing a lot of money, but since your bathroom is small, standard furniture pieces won't fit there. So, there are not many choices here. Besides, a custom washbasin cabinet that's adapted to the space will fit both your needs and the interior.
Small Bathroom Remodel Ideas: Colors and Lighting
Light Colors
Opting for light colors is one of the most important points because the wrong choice can cause the opposite effect to the desired one. If the bathroom is small, with little lighting and painted in dark tones – black, gray, chocolate, etc. – it will be visually even more reduced. Instead, shades of white, beige, bamboo, and olive green, for example, will make your bathroom appear bigger.
The Rule of Two
It would be hard to combine many colors and materials in a small space. That's why you should choose two finishes, and two tones. White and black is the most popular, but there are so many combinations!
Additional Lighting
When designing a bathroom, people usually install general lighting that lights up most of the space and specific lighting over the sink area. But they often choose not to add additional lighting that creates a relaxing atmosphere. Installing a simple LED strip behind the mirror won't cost much and will give a sense of greater space.
Small Bathroom Remodel Ideas: The Layout
Less is More
No matter how much you would like to stack your bathroom with many furniture pieces, you don't have that luxury. A tiny bathroom should consist of a sink, toilet, and shower. The correct distribution of a small bathroom is the one that ensures mobility in the central area.
Shower Wall
Another unique solution for small bathrooms is delimiting the shower with a partition and installing the washbasin cabinet on it. Without a doubt, it's an ingenious way to use the space of a small bathroom.
Consider Installing Sliding Doors
Sliding doors can be a perfect solution for tiny bathrooms, but not always feasible. If it's impossible to install them, you can still take advantage of the space behind the most usual doors. You can attach a hanger or organizer to them and store your things there.
Decor Elements for a Small Bathroom
Installing a Large Mirror
Install a large mirror above the sink, as it is the main element that increases the sense of space. If you can—incorporate it in the wall, or else use a frameless mirror. You can also use more than one by placing another mirror on the opposite wall.
Highlighting the Shower Wall
If you want to create a feeling of depth, consider highlighting your shower wall. Of course, this trick will only work with a transparent glass partition, but you shouldn't use anything else in a small bathroom.
Decorate with Plants
Plants are always a good idea. Not only do they clean the air, but they also give a feeling of freshness and harmony. There are so many plants to choose from, so you will definitely find the one for your bathroom.
Small Decor Objects
You can revive any dull space with small details. For example, placing small artworks, adding scented candles, or other small decor objects will make your small bathroom cozier.