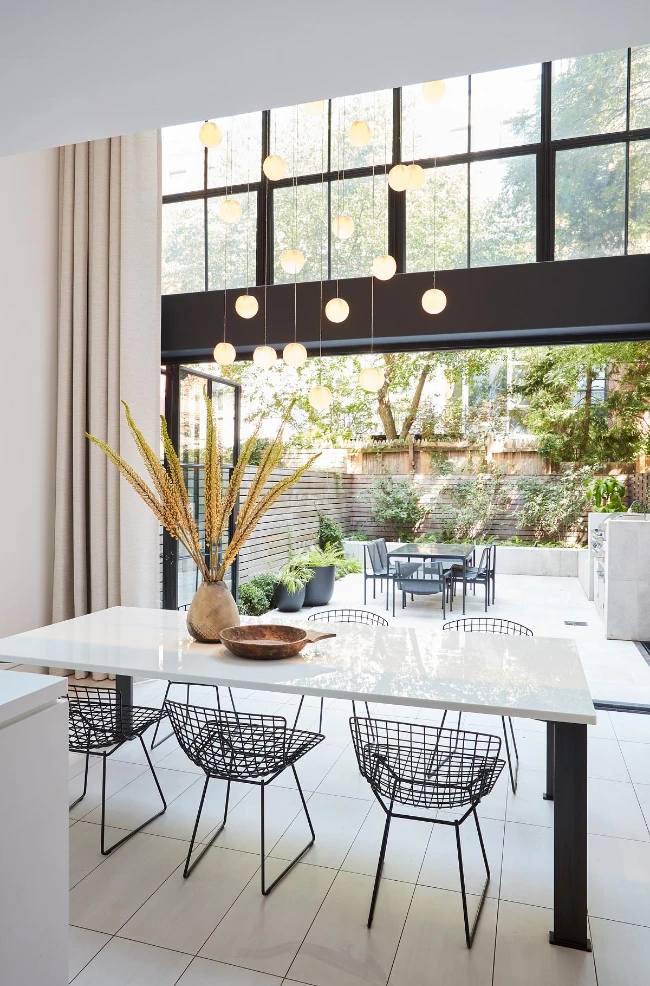 Timeless Charm Redefined: Khanna Schultz Architecture's Manhattan Makeover
---
This project involves the extensive renovation of an 1890s Renaissance Revival townhouse in Manhattan. Despite its history, the house had fallen into disrepair, featuring a mix of Victorian woodwork and outdated color schemes.
Reimagining a Historic Gem
Situated near Central Park, the townhouse possessed a solid structure and generous ceiling heights. The goal was to transform it into a modern family dwelling while preserving its historic essence. Upgrades were needed throughout the house, from finishes to systems.
Harmonizing Tradition and Modernity
While original historic elements were scarce, a few fireplaces and window surrounds were retained. The architectural approach was to juxtapose the 19th-century exterior with a contemporary interior, especially in the garden-facing spaces.
Blending Light and Openness
The architects added a four-story extension at the rear, featuring a glass curtain wall to usher in soft northern light. This addition seamlessly connects the interior with the outdoor garden. Rooms facing the street maintain a classical intimacy while garden-facing areas embrace a loft-like openness.
Innovative Design Elements
Wood panels line the length of the house at the garden level, serving both aesthetic and practical purposes. A double-height dining room with expansive glass creates a stunning focal point at the rear. The first-floor living room enjoys elevated ceiling heights and a connection to the glass wall.
Striking Contrasts in Design
Amid the overall light palette, bursts of deep, rich colors and materials introduce points of contrast and interest. These accents add vibrancy to the serene ambiance, elevating the space to a unique level.
Project by Khanna Schultz Architecture and Design DPC
Photos by Michael Moran and Julian Wass